Monty Python's Spamalot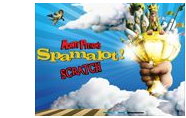 Spamalot is a very popular scratch card that is based on a musical comedy that was inspired by the classic movie, Monty Python and the Holy Grail. Try it out now for free.

Play this incredibly wacky scratch card for real money at Windows Casino. Grab the $250 bonus and laugh out loud while playing this scratch card on your home computer.


---