How To Play Video Poker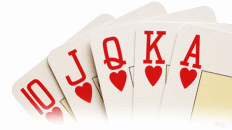 Video poker is an easy game to play once you study the different poker hands and develop a basic strategy when it comes to drawing new cards to make the best hand. To begin a game, the player will place a bet and press the deal button to draw five cards. After the cards are dealt, the player will have the chance to keep or draw new cards to replace the ones that he has discarded from his poker hand. Once the new cards are added to the poker hand, then the payout is determined based on the cards within the hand. The payout schedule can differ slightly depending upon the version that you decide to play.

The only skill involved in the game of video poker is that the player must determine which cards that they should hold and which cards should be discarded. In certain circumstances, a player may want to give up a winning hand with a low payout if their is a good chance that the player will be able to draw new cards and make a better hand.

Their are many variations of the video poker game at online casinos. You can play video poker with wild cards, jokers, and even power poker games where you'll be dealt up to 100 poker hands. When choosing a video poker game, you should make sure to carefully examine the payout schedule to find a game that offers the best rewards.

It is highly recommended that a new player should start by playing the Jacks or Better video poker game. It is the most popular video poker game, and all other versions of video poker are based around this particular poker game.
Online Casinos
Bonus
Games
USA
Coupon
Software
Play Poker!
These online casinos offer special bonuses for video poker players. You can make your first deposit at any of these online casinos and begin playing video poker with the free bonuses listed above. We also recommend that you check out Betfair because they offer an excellent selection of video poker games. Please use the coupon codes to redeem the free bonuses with the casino cashier. If you have any questions or concerns about the free bonuses, then please check out the promotions section on the web site of the casino where you would like to play video poker.